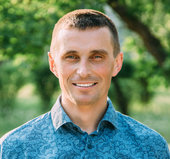 Igor Bakunets – Senior Pastor in «Grace» church.
Our ministries:
Sunday services
Home groups
Musical ministry (Worship)
Kids ministry
Ministry of counseling
We teach and believe that:
The canonical books of the Bible compile the Word of God equally God-inspired in every part, the Word of God is the supreme and the only infallible revelation of spiritual and material world, it is the revelation of God about Himself.
There is only One Living True Everlasting God, Who reveals Himself in the Trinity of the Father and The Son and the Holy Spirit. The three persons of the Trinity are perfect, everlasting, equal, inseparable in the way that the Father is God, the Son is God, The Holy Spirit is God.
God created a human by His own intelligent, moral and social image and likeness except physical. Having intimate relationship with God is the only way for human to be truly happy and to have real purport of life.
God gives salvation by grace for the reason of redemption accomplished by Christ and not for the reason of human deeds or achievements. In salvation we distinguish Divine and human sides.